New team members on board
These last few months, Oxxius grow up again and hired new team members. At Oxxius, we consider our expertise in optics/photonics know-how is a key element of our success.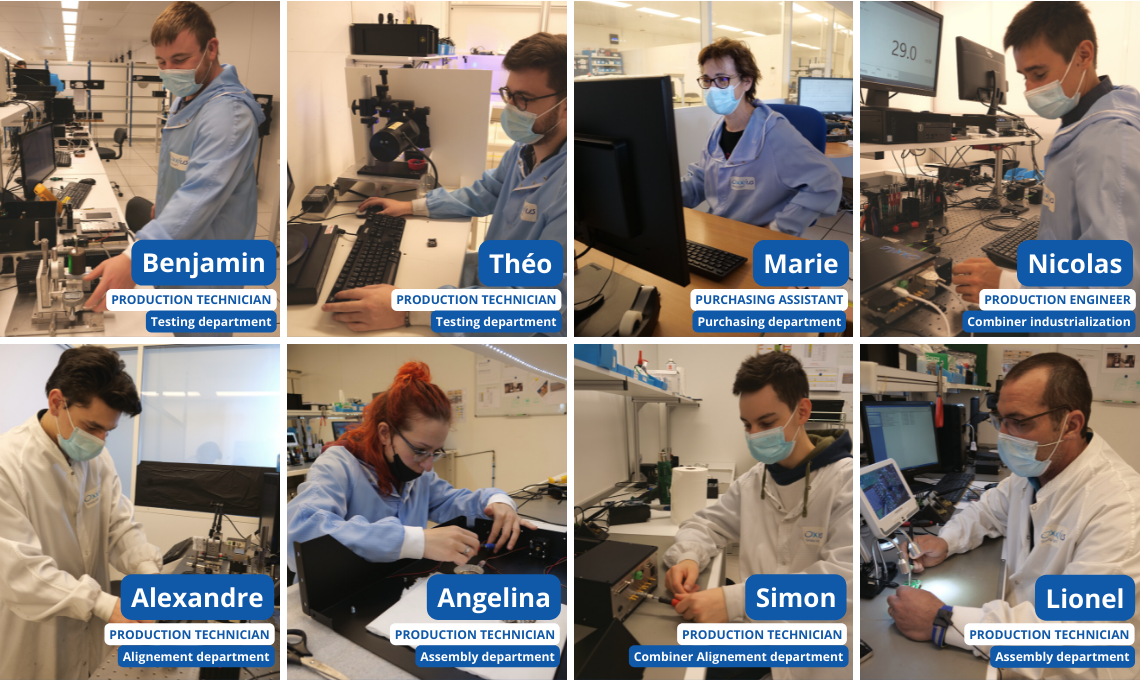 We are pleased to present them today!
Benjamin is a Production technician at the Final Testing department.
He works on the DPSS conformity. Pollution, scratches, voltage, noise, spectrum analysis… he detects and verify everything!
Benjamin is joyful and much appreciated colleague, and he is also extremely meticulous in his work.
Theo is also a new team member at the final testing department. He is in charge of conformity control on your wavelength combiner.
This conscientious worker is also a young astronomy enthusiast. Studies, hobbies and leisures… It is all about Optics!
Marie is our new Purchasing Assistant. Her daily routine: components ordering, managing, tracking and logging.
After a career in financial management and communication, Marie is methodical in her approach and has a keen eye for detail.
In addition to her passion for numbers, she is an avid collector of perfume miniature bottles. So French!
Nicolas is the new industrial engineer dedicated to the wavelength combiners.
His missions? Integrate new technologies developed by the R&D department and manage technical support.
Nicolas comes straight from south of France (IES Institute, Montpellier) where he was researcher on spectroscopy lasers.
Angelina joined the Production team in the Assembly department.
She is a very calm and thorough technician. Her qualities make her a specialist in lens bonding.
When she's not taking care of her adorable 4-year-old daughter, Angelina enjoys renovating her home.
Alexandre is a new Production technician (Alignment department).
After having passed his Optics and photonics BTEC, Alexandre has taken a training course in our production teams.
In his free time, he enjoys restoring old cars and motos. His objective: participating in the London-Lisboa Era rally.
Simon joined our team, and we are excited to have him on board.
In the past, Simon worked in the welding sector. Thanks to our internal training he became a production technician.
Simon is focused more particulary on the wavelength combiner assembly:  electronic card testing, optical componements bonding and assembly.
Lionel is an Assembly technician.
His role is to assembly components and modules in order to integrate them as finished goods into LBX production lines
He is passionate about electronics and loves repairing technical and mechanical objects.  Calm and meticulous, Lionel is also appreciated for his qualities of  good trainer.