Meet the team
Next up to our 'Meet the team' series is Antoine Kasprzak, Regional Sales Director at Oxxius
Five questions to better understand his day to day work.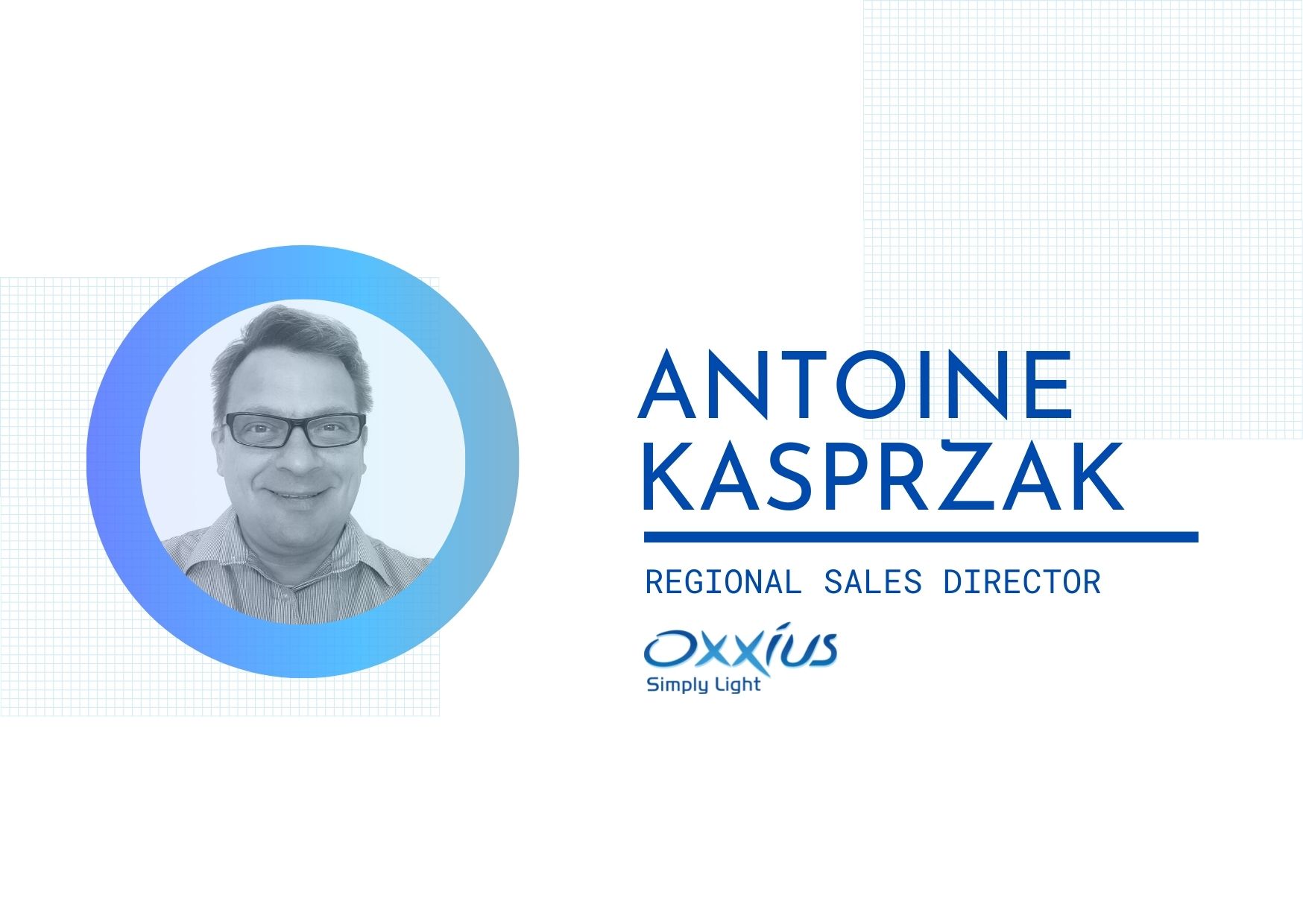 Hello Antoine, could you introduce yourself in a few words?
Of course, I am Antoine Kasprzak, French Engineer with Slavic background as my name shows. I have over 25 years' experience of selling photonics related solutions, strategizing and growing businesses in a field I love. I have an extensive experience from engineering to senior management roles but it is on the field as a front liner that I enjoy my work best. I joined Oxxius mid-March 2021 as a Regional Sales Director.
What's (Regional) Sales at Oxxius and what is your role in the Sales department?
International Sales is the key of success for any advanced high tech company and as a world leading laser manufacturer, Oxxius has a stronger and stronger presence globally. As the business interaction with the outside world is mainly managed by the Sales department, my role is to make sure we keep serving well our customers on my dedicated geographical area. Regional Sales is therefore helping our distributors with selling our products to their end customers, supporting our OEMs with best solutions adapted to their needs. When we interact with direct end user customers my role is to be sure the offer is suited technically, commercially attractive and with a trusted voice too. Nurturing existing commercial relationships and growing new business in Asia, most of Northern Europe as well as Russia and neighbouring countries is my role within Oxxius Sales team.
Could you tell us a bit about your background and why you choose Oxxius ?
Oxxius being based in beautiful French Brittany, there is much to like to work for a company based not only in a magnificent area but also as being part of a worldly renowned Photonics Cluster. Lannion is also the place where I did my graduated studies as a French highly skilled engineer nearly 30 years ago. Having studied about Lasers, Photonics and having spent my quasi-entire career so far in this highly innovative field, joining Thierry Georges' team and Oxxius was a no-brainer to me. A very nice aspect for my choice of joining is that Oxxius' lasers are being developed and manufactured by such a great team of people for applications that really mean a lot to the advancement of technology used for the well-being of the humanity. On the personal side, I went around the globe multiple times for work or leisure, lived in North America for 15 years, …am a proud Canadian since 2000 ! My children have 3 continents in their bloodstream this makes me a very international person with multicultural professional and personal experiences. I worked for American, Asian, European corporations and various Canadian Start-ups, currently living in the UK, I am field based in this role and when required I am visiting my colleagues who, like me, are baguette, wine and cheese lovers, without forgetting the "crêpes" !
What do you like in the Oxxius' sales team ? What are the day to day challenges in your position ?
Knowing there is a strong professional team behind me is great. Oxxius' Sales team has struck me with its high professionalism and customer dedication. It is good to have great support from all, from the CEO, VP to the co-workers. As I am being field based, I am working from home a lot but sadly Covid restrictions slows my aim to travel to my customers. With a good 2 digits growth, challenges are of course multiples. One of them is to offer products to all customers per desired specifications in a timely manner. Luckily at Oxxius, R&D as well as Operations have a strong customer focus to make sure all challenges are solved the best possible way.  It is hard for a field sales person to do all its sales/contacts remotely due to the pandemic but it is also a blessing to have all the modern technology which allow to keep running the business.  Missing the regular face to face customer contact is definitely the biggest challenge, there is hope however to do it again soon.
What do you like to do in your free time ?
Free-Time…a rare treat it is. So when I am enjoying these, DIY, Gardening but also doing nice walks in Devon or visiting English National Trust parks. Seaside or biking my tandem is great too.  Being French, cooking is a pleasure too, especially doing crêpes for my kids. Doing cultural outings with the Family, to historical sites or museums is the best of all.